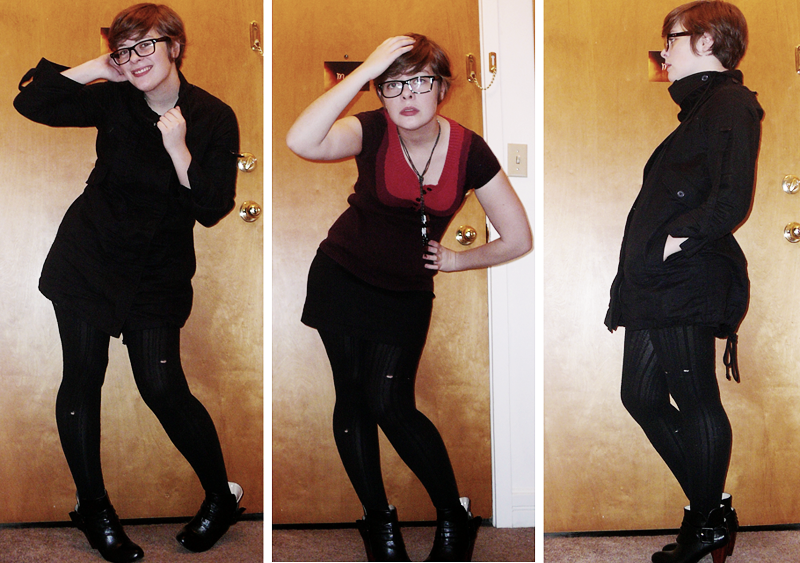 Skirt: thrifted
Shirt: Urban Outfitters
Tights: Betty's Divine
Shoes: Forever21
Necklace: Forever21
Coat: Urban Outfitters
I love this new coat from Urban! I got it on sale while I was in Portland for New Year's. It's 3/4 sleeve, which is a little annoying, considering I actually need to, you know… "stay warm." But it's still so incredibly cute, and layering cardigans underneath isn't really that difficult. And it comes with detachable hood! Oh, my heart.
Speaking of Portland, I'm pretty much in love with the city! Unfortunately, every single time I've driven back from Portland to Missoula, I've gotten in a car accident of some sort. That's 3 for 3, in case anybody's counting. I'm pretty much never driving to Portland again. On the bright side, Portland is a great city, and I love it more every time I visit. A lot of hipsters everywhere, holding hands with each other and milling around in coffee shops, but I can handle that. (It's the scary business people in all black that freak me out when I visit cities.) So all in all I can very much relate to Portland and its people, and the way they dress. I may even move there when I'm out of school, and back from Japan!
Filed under: Uncategorized on January 5th, 2009