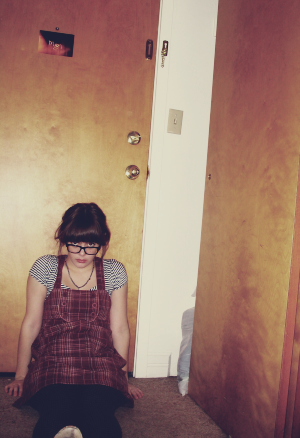 Earlier today I wore black tights, an embellished tee tucked into my black high-waisted mini, a belt, and a military blazer. It would have been a wardrobe favorite for me only a few weeks ago, but today, somehow, it didn't feel right. I spent all day pulling my skirt down, afraid it was hiking up over my ass (I never usually do this), and my tights seemed uncharacteristically uncomfortable and annoying. What exactly gives?
I'm not sure what it is, but it resulted in me buying 2 pairs of jeans, 2 ridiculously soft and comfy tops, and a long cozy sweater vest while on a shopping trip with my mom, cousin, and grandma. Last week I was on the hunt for new dresses, but today, not so. Today was all about comfort and understated style.
I'm tired of putting myself together day after day, only to suddenly find myself in a situation (like today) where I have no comfortable or flattering jeans, no truly great or comfy shirts for winter, and a strange sense of being lost in a wardrobe I've created, yet am completely unfamiliar with.
Maybe it's being in Austin with family, maybe it's the extreme and sudden urge to actually do something about a body I'm not comfortable in, but right now all I want to do is be comfortable. I don't feel like standing out, or making a statement, or even being "fashionable" by any standard. I just want to wear something laid-back and comfy to watch Stargate in.
As a result of this new desire to dress down, I made a Polyvore set to try to inspire myself to be comfortable, but still me, with accessories doing the job of keeping the look unique to my style.
The staples are dark skinny jeans, long-sleeve tunics, and black timeless flats. I was on a black/neutral kick for a while, but now I'm drawn toward reds and purples. To keep things interesting, I'm looking to wear a hideous amount of necklaces all at once, and as many rings on my fingers as I can. A classic peacoat would keep me warm, and a silly hat with ears is just the thing to lift me out of this "fashion" malaise.
I think it's mostly just a disillusionment with the world of Fashion Blogs, but perhaps this will pass. I just need a moment to be alone, wear teenager clothes, and watch sci fi shows.
Filed under: Uncategorized on January 10th, 2009