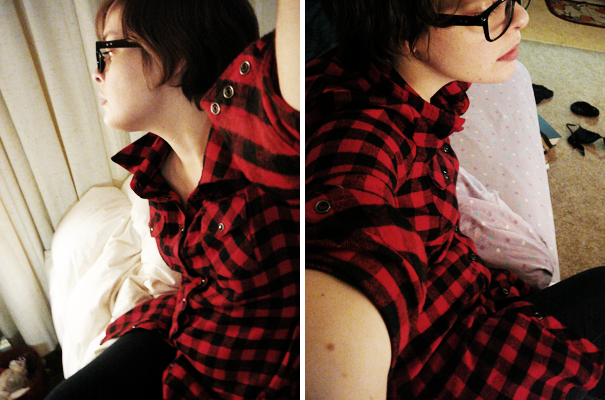 Sorry for the minimal posts lately. I'm still in vacation mode (strange, considering I'm… still on vacation), and I won't deny that two days ago I spent the entire day in my mom's old Victorian flannel nightgown. I might try harder to hide this fact if it hadn't been the most comfortable day in the entire world!
Anyway, as expected, I've been shuffling about the tiny apartment in jeans, slippers with penguins on, and comfy non-descript shirts. (Above: lovely flannel from Forever21, an homage to my absent boyfriend who used to spend his every waking moment in plaid flannel.)
Today, I am wearing this: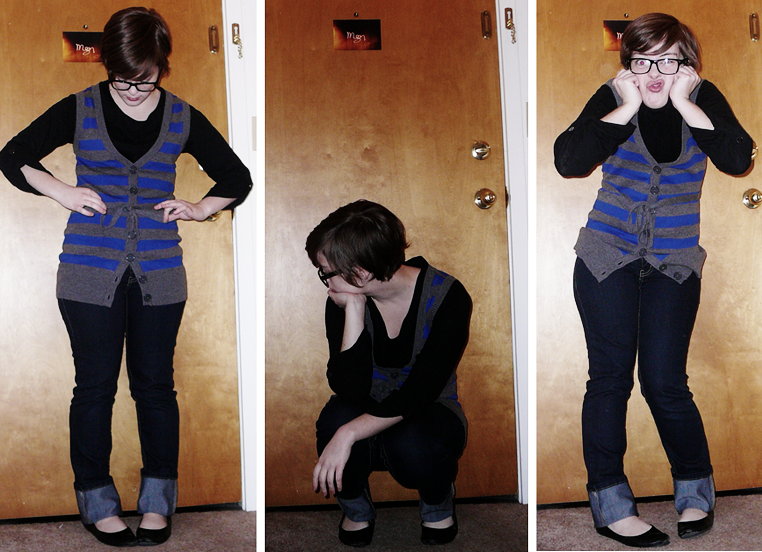 Ew, flash pictures.
Shirt: Target
Sweater vest: gift from my aunt (technically from Marshall's, though)
Jeans: gift from same aunt (Forever21, also from Marshall's; who knew they sold F21)
Shoes: Nomi
I know, boring boring, anything but inspiring. I just felt I'd share just how comfortable and nice it is to wear jeans again. I find I cycle back and forth between only wanting to wear jeans, and only wanting to wear skirts/tights. Not very exciting, but I will go with my gut when it comes to fashion.
P.S. Is anybody else devastated that Carah Faye left Shiny Toy Guns? …Just me? Well then.
Filed under: Uncategorized on January 14th, 2009