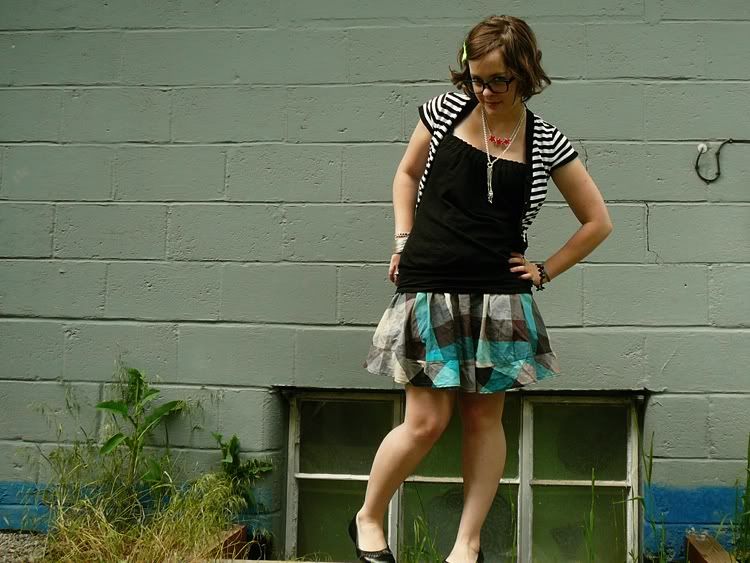 Rave skirt, random tank, Wet Seal cardi and star necklace, Target shoes, necklace from bf.
My idea of my own "personal style" changes more quickly than I would like. It's often different from month to month, my desired "look" based usually on a picture I saw somewhere, or another girl, or a desire to change my lifestyle. Not a few weeks ago, I wanted to look indie bohemian: flowy dresses, brown leather belts, gladiator sandals and fringe bags. Now, after buying flowy dresses and a brown belt and lusting after fringe bags, I find myself wanting to dress more like this: 
Unfortunately, I don't think I could pull it off, even if I had such amazing clothes. There's something about Asian fashion that can really only be pulled off by Asians. Does that make sense, or do I just sound racist? Well, whatever. I only wish I had long straight black hair and a boyish figure. Also, bright pink shiny boots.
Another inspiration for me lately is this girl on lookbook, especially the look I linked to. She looks so damn perfect, from her hair to her sunglasses to her amazing hat to her dress and… of course, the striped shirtdress worn as a jacket. She makes me wish more than anything that my hair was long again… sigh. I just adore her look, though, and I want to shamelessly copy it and be her creepy online copycat stalker. 
Anyway, I guess to summarize, I'm having a personal style crisis! I want my style to look a certain way, but not only am I lacking in needed clothes and accessories, I don't think I could pull it off. 
Do any of you have similar style dilemmas?
Filed under: Uncategorized on June 2nd, 2009