I've been a bad blogger. I'd make up excuses, but really, there are two reasons I haven't been updating. One, I got a full time job for the first time ever, and when I get home, the last thing I want to do is pose and take photos outside. The job requires me to sit all day, so I've been wearing strictly comfy clothes, with not a lot of originality or aesthetic value. Even my jewelry has fallen to the wayside. I'm slowly getting used to it, though, and my energy level is gradually getting higher every evening. One of these days I might do a real outfit post. 
Two, style blogging isn't something I've been dying to do lately. I continue to read all my favorite blogs, but I'm lax on comments, and I don't care about updating my own. This is mostly due to a general annoyance and boredom with fashion in general, and fashion blogs indirectly. I don't like most of the trends lately, I'm tired of seeing the same 90s floral dress on everyone, and in my mind the whole blogging scene is a huge popularity contest. I dunno. It all seems so ridiculous.
I realized that part of my annoyance with fashion blogging is its focus on looks, on the outside, on how well you can put yourself together. It seems that there's a lot of animosity towards natural looks, towards carelessness and going anywhere as-is. There's an astonishing amount of importance placed on what you wear, and how you present yourself. Going to Albertson's in sweatpants? A cardinal sin! Ugg boots (god forbid)? Immediate beheading. And then I see, all over the place, people sporting cut-offs that look like grandma underwear made of denim, and hair that looks like it was dragged through a heroin syringe (as impossible as that may be, physically). And we're allowed to go outside looking like that? Seriously, who cares if people like Ugg boots. What's the big deal? Why do you have to bitch and moan about it all? Yeah it might be a little bit of eye pollution, but at least some girls are happy being comfortable and nothing more. I'm happy being comfortable and nothing more sometimes. What's wrong with that? It seems there's random shit like that all over fashion blogs: what you shouldn't wear, what you should wear. I read recently that I MUST NOT wear flip-flops, ever. Why on earth not? Why should I not wear flip-flops, and who made up this inane rule? It makes me want to wear my flip-flops all the time just reading things like that. It's only one example of things that have really gotten under my skin lately. So, as you see, I am truly fed up with it.
What's the goddamn big deal? I'm me. I like to dress the way I like to dress. Who cares if I don't look like a spread in Nylon (ew) every day? It's seriously pissing me off just thinking about the world of fashion and fashion blogs, so I think you understand the second reason why I've been staying away from it. It's just not worth all the forehead-vein-popping that would ensue.
Anyhow, as a response to all this tiresome nonsense, here are some photos of my new hair color. And in them, you'll find me being me. Check out my ass, my cellulite thighs, my little tummy. No fashion here, just a girl. A girl who's sick of pretending and dressing up and feeling like she has to be like every other fashion blogger out there. A girl who is happy wearing sweatpants to Albertson's. So there.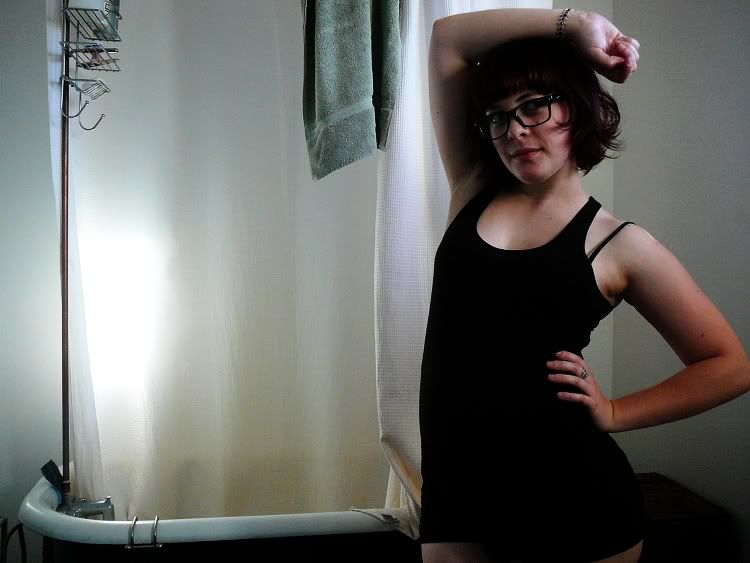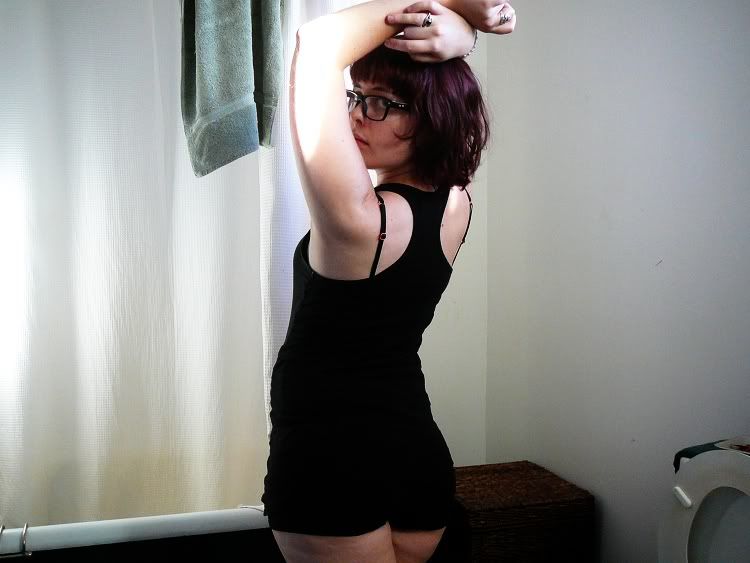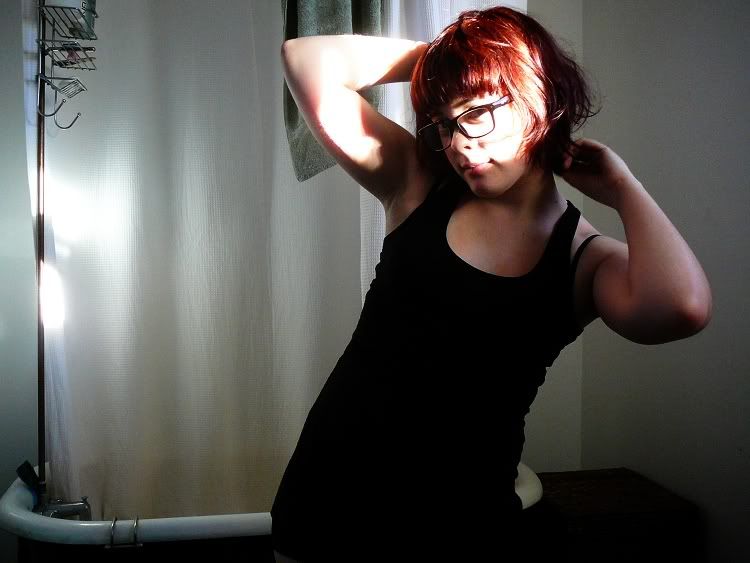 Filed under: Uncategorized on June 30th, 2009