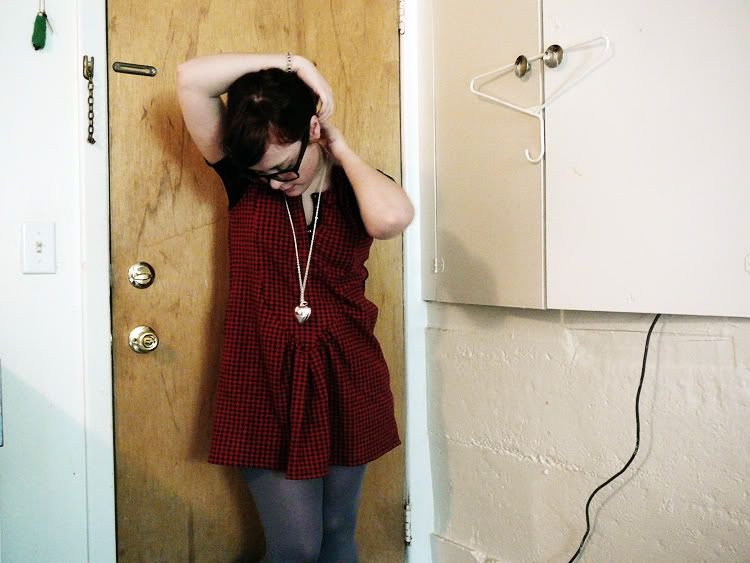 Urban Outfitters tunic/dress, Target necklace, AE tee.
I originally saw this dress on Yuka, and then again on the UO website. I bookmarked it, but didn't buy it. Then a few weeks later, I suddenly had a huge yearning for it. So I went back to UO, hoping it would still be there, and it was! And on sale, to boot. So here I am in the most comfy, adorable, awesome dress ever. It's probably not the best for really hot summer days, as it's a thick, fuzzy flannely material, but it's fine for me right now, and it'll be perfect for fall and winter.
In other news, I'm working on writing a novel, and illustrating the characters in my sketchbook moleskine. It's extremely gratifying for me to be working on something productive that I love, and it makes me feel accomplished and fulfilled.
I highly encourage every one of you to do what you believe truly shapes your life; whether it be music, design, art, writing, knitting, or running a marathon. Anything. As long as you do what you believe you are meant to do, what you need in order to feel you, you'll be happy. I'm slowly learning this myself. I used to go years without writing, and though I didn't realize it at the time, it truly sapped me. Now I feel like my life finally means something. Yes! Writing!
Sorry this is disjointed and rambly. I'm worried about getting the "Hail to the Chef" achievement in WoW. So sue me.
Filed under: Uncategorized on July 10th, 2009