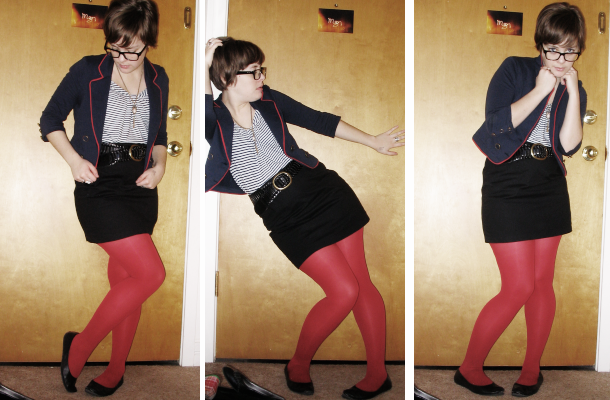 Skirt: Gap
Shirt: American Eagle
Belt: Urban Outfitters
Jacket: H&M
Tights: Betty's Divine
Necklace: Forever 21
Shoes: Nomi
Today I wore black and navy together in (gasp) one outfit. Now, I would never have thought this was any kind of offense, except that a friend of mine once told me that it is Completely Unforgivable to wear black and brown or black and navy incorrectly. For years after that, I was terrified I'd get it wrong. In the back of my mind I imagined some sort of mythical fashion police lurking in doorways waiting for me to err in the face of fashion. Of course there are no fashion police, but there may as well have been. Up until just recently, I was too nervous to throw black and brown and navy together. They were never invited to the same parties.
But, what did I get out of that? I got a much tamer wardrobe, a wardrobe that never took risks, that sometimes didn't allow me to wear the things I wanted to wear because of some silly fashion rules. I am now finding that there is absolutely no reason why I shouldn't wear a black skirt and belt and shoes, with a navy striped shirt and jacket. Absolutely no reason. If it makes me happy, I will do it! And so I did. And so I am happy.
Other things that are making me happy just to look at (oh thank goodness Christmas is coming!):
I spend an awful lot of time drooling over the dresses and shoes at Modcloth. My newest love is these red wedges. They're so fun and strange at the same time. I think they are the perfect combination of elegance and oddity. I would just love pairing them with white and red and lacy things. Just thinking about it is getting me all in a tizzy.
I'm going to just go ahead and say it: I can't think of anything more fitting to perch on my head than one of these glorious headbands from Day-Lab. It's exactly what a space fairy would wear. (What is a space fairy? What do you think a space fairy is?) I need one.
Another from Day-Lab, these bracelets are exactly what I've been fantasizing about wearing on my wrists since before I had a conscious mind. …Okay not for quite that long, but these are so perfect for my aesthetic needs. My taste in jewelry flip-flops between antique-y with lots of silver and gemstones, and a tougher, more badass (is that really the word I want?) look. I love any sort of wrist adornment with a buckle, and I'm quite partial to shiny gold and silver accessories. Clearly, these bracelets and I were born to be together.
More from Modcloth, apparently. Also, apparently I like oversized bows at my neck? Yes, yes I do. The flannel Blue Bird dress looks like the perfect winter dress; cozy and warm, but still darling and feminine. The Angela Chase Babydoll reminds me of the holidays, and I would of course wear it with my red tights and vintage blue and white swing shoes. Winter and dresses go together like hot cocoa and marshmallows. Perfect.
What other amazing things are you guys loving right now? Send me window-shopping.
Filed under: Uncategorized on November 21st, 2008