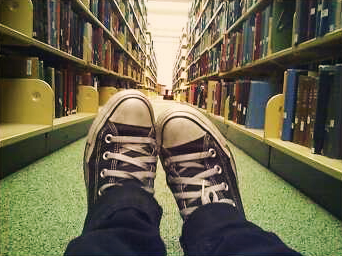 I never feel more calm, safe, and at peace than I am in a library. Even doing research for a stressful final paper, I find solace in book-lined aisles.  There's something still and old about a library, almost as if it's cut off from the rest of the world's flow of time. I love a library most when it's raining outside, and the books emit a warm, dry smell that is instantly comforting. A library is my favorite place to be.
I would love to do a photo shoot in a library, with costumes inspired by my favorite books. Unfortunately my costuming friends don't live here, and my photographer dad is far away.
What's your favorite place?
Filed under: Uncategorized on November 25th, 2008