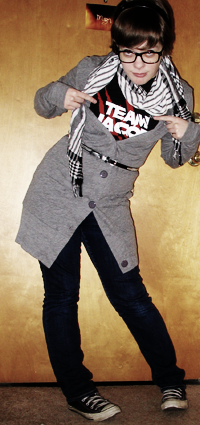 What I wore to Twilight!
Sweater: Urban Outfitters
T-shirt: Hot Topic
Belt: Goodwill
Jeans: Express
Shoes: Converse All-Star
Scarf: Target
Sorry I've been absent from the blog for so long! It's Thanksgiving break and I'm overwhelmed with food, family, World of Warcraft, and academics. I'll be posting real stuff again soon, I promise.
Filed under: Uncategorized on November 29th, 2008